Take the benefits of the sea at home...
Enjoy a moment of absolute relaxation and let the power of Pure Crystals act on your skin.Marine Salts and Aqueous Laminaria Concentrate intensely remineralize your skin.
These crystals melt on contact with hot water and release a marine & relaxing fragrance.

Its large and slightly pearly crystals melt on contact with hot water to release its precious active ingredients.
Enjoy a moment of relaxation in a iridescent water and succumb to its revitalizing Marine fragrance in which intertwine notes of Grapefruit, Jasmine, Sea Foam and Musk notes.
A concentrate of marine active ingredients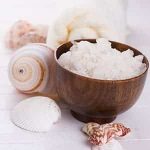 Full of essential minerals and trace elements (magnesium, calcium, sodium and potassium), Marine salts intensely remineralize and revitalize the skin.
AQUEOUS LAMINARIA CONCENTRATE:
LAMINARIA DIGITATA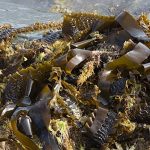 Abundant along the Brittany Coast, Laminaria Digitata is a large brown to green algae that can measure up to 6 meters in length.


This reference natural ressource in thalassotherapy is used in many cures thanks to its large quantity of minerals and trace elements.

Remineralizing and toning, this seaweed helps rebalance the body.
Pour 2 handfuls (100g) under the bath water flow (35-37°C).
Relax for 10 to 15 minutes then rinse the skin. (1 Jar=5 baths)