« The richness of ocean »
The diversity of Brittany's fauna and flora coastal is not only exceptionally rich but also a real source of inspiration.
That's why we have naturally chosen to draw our ingredients close to home : Southern Brittany.
The Oyster Shells are manually collected on Breton coastal beaches and then transformed using an eco-responsible process, thus ensuring traceability of the resource. They are washed with clear water and reduced to powder to enrich our product.
This mineral and natural raw material is characterized by its whiteness and purity.
This shell resource has many benefits for the skin and the body.
The secret of its active ingredients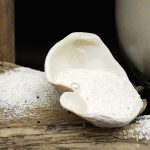 Our Oyster Shells powder is rich in calcium, mineral salts and trace elements. lt is non-irradiated, non-ionized and without additives.
lt provides intense exfoliation of the epidermis.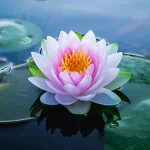 The Sacred Lotus is an aquatic perennial plant. The Sacred Lotus Flower (symbol of divine beauty) is an ultra-protective and radiance activator active ingredient. Especially soothing, calming and refreshing, Lotus Flowers are used to fight against skin imperfections.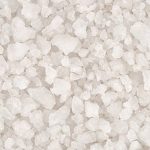 Natural exfoliant for the skin. lt contains countless minerals that are healthy and excellent for the skin: potassium, iodine, calcium, iron, and zinc.
The Scrub ant its advantages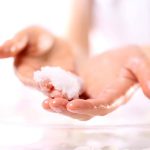 The originality of this scrub comes from its aqueous, soft and melting texture…
Sprinkled with Oyster Shells Powder and Marine Salts, it offers an exfoliation that softens your skin.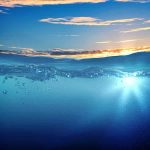 "Energizing marine fragrance"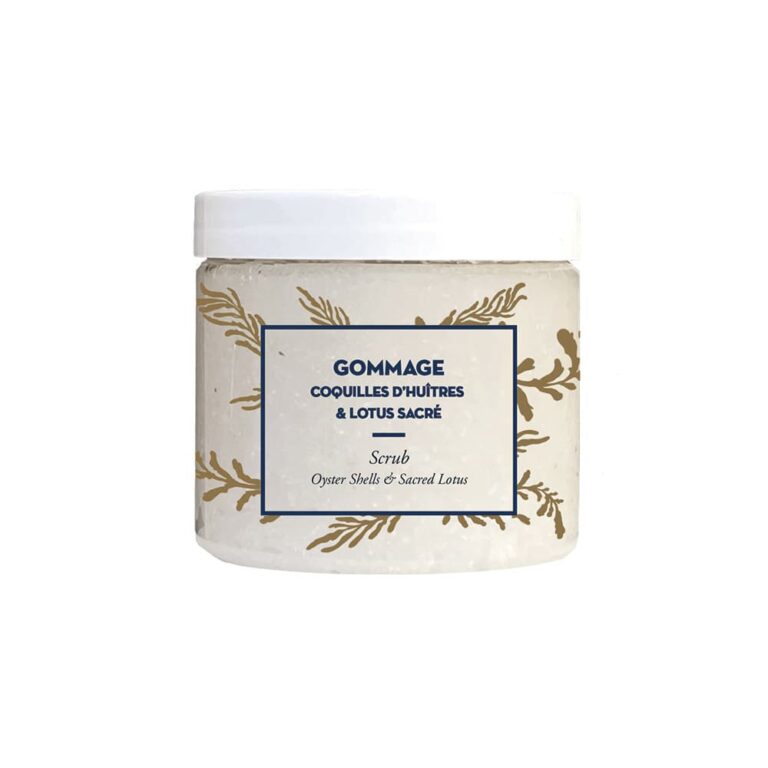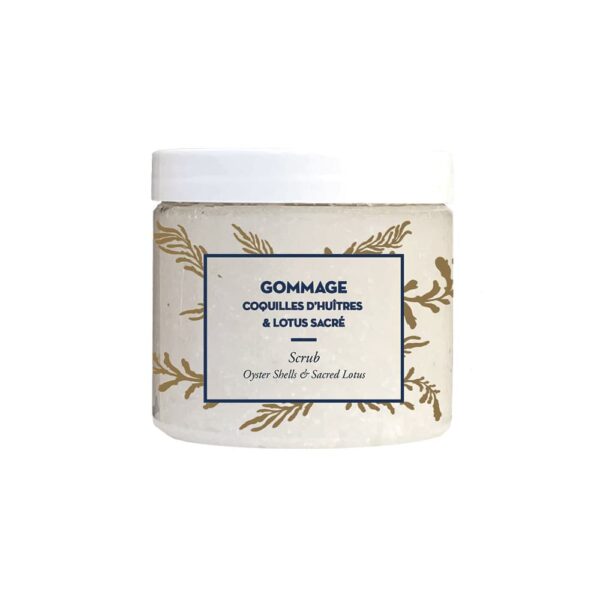 A recycled and recyclable plastic Jar!
This care refines skin texture in a single step. Marine salts and Oyster Shells eliminate dead cells accumulated on the surface of the skin to leave it perfectly soft, luminous and hydrated.
Dry scrub: apply the scrub to dry skin to allow an intense exfoliation.
Exfoliation in the shower: lt allows a better mechanical glide.

After exfoliation, apply one of our moisturizing or nourishing cares:
HYDRA-GOLD BODY BALM Golden Algae & Shea
VELVET BODY CREAM Himanthalia & Fucus
THE DRY OIL Himanthalia & Apple Seeds
The exfoliating cares and their benefits for the skin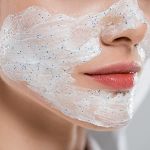 To exfoliate the face & bust
Exfoliation is the first step in the beauty routine to obtain a nice complexion & maintain a nice décolleté. Performed once a week, an exfoliating scrub of the face and bust will awaken the tone and radiance of the epidermis.

The Exfoliating Care Fucus Water & Rhyolite will pamper your skin as fine and sensitive as your décolleté.

Like any exfoliation, it should be followed by a hydrating/nourishing treatment.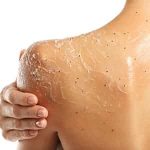 This is a part of the body that is often overlooked … And for good reason: exfoliating the back alone is not very easy!
A weekly back scrub can limit the appearance of imperfections and allow to have a beautiful skin on this area.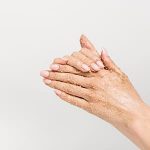 If it is important to moisturize and nourish them regularly, a weekly hand scrub is a good idea!
Your hands, free of dead cells, would gain smoothly.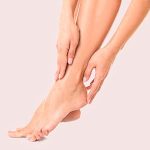 lt is important to daily moisturize the skin of the feet, which is thicker than the rest of the body.
But to have pretty feet, without cracks or corneal layer, it will be necessary to rid the foot (especially the heel) of its roughness.
For this, several steps are necessary: after soaking your feet for about ten minutes in water infused with PURE CRYSTALS ALGAE & SALTS, you can use pumice stone to remove the horn.
The trick is not to use the pumice stone dry, but to wet your feet by adding CREAM ALGAE SOAP before rubbing.
Once the calluses have been reduced, it is essential to remove the dead skin cells using one of our body scrubs (MINERAL LAVA POWDER SCRUB or SCRUB OYSTER SHELLS & SACRED LOTUS) that you will apply in a circular massage.
The exfoliation of the feet can be done once a week.